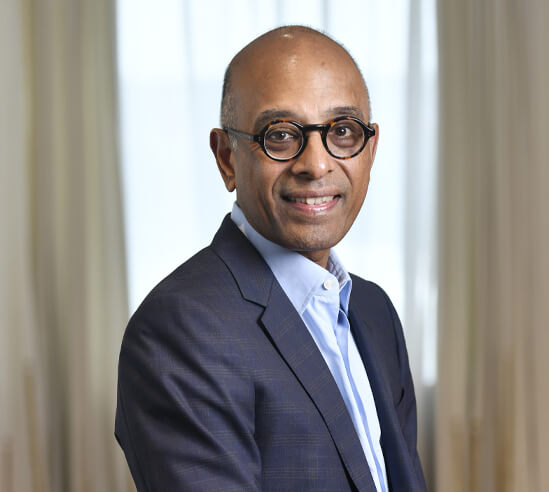 Ashwin Muthiah
Founder & Chairman
Ashwin Muthiah embodies the spirit of modern-day, borderless business growth. He is the Founder & Chairman of AM International Holdings, Singapore and AM UK Holdings, London.
Ashwin firmly believes in building businesses that are trusted by society. Today, the group businesses demonstrate a long-term, consistent strategy and deliver business growth while building ethical stakeholder relationships.
A firm and principled leader, he believes in building businesses that compete in a fair manner based on their superior strategy, products and services. This has been paramount to creating long-term value.
Determination with a focus
Scion of a renowned family of philanthropists and industrialists, Ashwin is a third-generation business leader. He has been leading the group since 2001. After completing his post-graduation in Management Studies, he joined the family enterprise to gain practical business knowledge and experience.
The group traces its beginnings back to launching India's first motor scooter. Today, it offers products ranging from soda ash to fertilizers to specialised medical instruments.
Given the diversity of interests, Ashwin observed that the companies needed a unifying focus. He reckoned that consolidating the businesses under a single platform would help establish synergies, boost financial strength and bring accountability for promoting sustainable growth.
Ashwin recognised that re-orienting the group businesses under AM International Holdings was the strategic way forward to preserve his family's legacy in the new millennium. Ashwin's passion and strategic business acumen acted as the catalyst for a phenomenal transformation.
To expand the group's global footprint, Ashwin founded AM UK Holdings and Amrock Ventures in London in 2020. AM UK Holdings is charting a strategic growth path for the group's future, while Amrock Ventures invests in innovative seed-stage startups with a long-term vision.
Simple living and high thinking
"Sustainable growth with measured risk-taking" best describes Ashwin's business philosophy. He believes fiscal prudence coupled with continuous innovation can drive sustainable growth in any industry. Thus, consolidating different businesses under the AM International Holdings platform has created a nimble and smooth holding structure that invests with conviction to unlock value.
Every company in the group focuses on creating sustainable business models that are agile and can adapt, change and grow in the long-term in a volatile, uncertain, complex and ambiguous (VUCA) world.
Ashwin's appointment as Consul General Ad Honorem for the Philippines in 1993 and former membership of the Singapore Economic Development Board (EDB) recognises his stature as a respected business leader.
Legacy meets modernity
Ashwin initiated a new phase of globalisation within the group, working with strategic stakeholders, acquiring assets, building a professional leadership team and introducing the latest technology. This led to significant value creation and business sustainability. He helped strike the perfect balance between traditional business practices and contemporary technology-driven growth.
As the culture of innovation and reinvention gets institutionalised within each business, AM International Holdings, Singapore is consolidating the business in South East Asia and India. AM UK Holdings and Amrock Ventures are emerging as the growth vehicles for Europe and the US while also driving the group's overall strategy. With a focus on clean energy, green manufacturing and partnering new-age technology-driven startups, age-old ethical principles and corporate governance remain the group's guiding forces.
A businessman with a heart
Access to quality and affordable healthcare is one of the most critical challenges facing the world in general and India in particular.
AM Foundation's initiatives focus on providing primary healthcare services. The foundation partners with government agencies to set up and administer primary healthcare centres in rural regions. These centres also deliver nutrition and immunisation services. Additionally, they offer referral access to secondary and tertiary healthcare wherever required.
Under Ashwin's leadership, AM Foundation works with government and global organisations to drive change in these areas.
The foundation believes providing sanitation solutions is the stepping stone to education, health, security and wellbeing for families in society's underprivileged sections.
Ashwin divides his time between the UK, Singapore and India for business. A travel and fitness enthusiast, he is a connoisseur of good food. He also enjoys listening to music and spending quality time with his family. Ashwin is married to Valli, and they have two daughters, Devaki and Alagu. An alumnus of the famous Loyola College, Chennai, he played league cricket and polo in his early days.
Ashwin has a unique management style of collaborative consensus. His deep knowledge blended with non-negotiable ethical behaviour underpins the group's success.